Multimorphic Inc., the manufacturer of the revolutionary
P3 pinball platform
, introduces head-to-head pinball gameplay over the internet.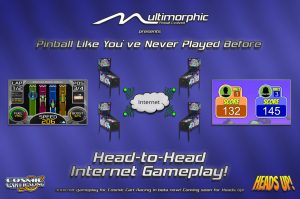 After recently releasing
Heist
, the new flagship game for the P
3
, for a fraction of the price of new single-themed machines, Multimorphic is once again leading the industry forward and delivering increasingly more value to its customers. Multimorphic customers all over the world can now connect their P
3
to other P
3
s over the internet and play head-to-head pinball in real-time against remote competitors.
Internet head-to-head gameplay is the newest of many networking features planned for the P
3
, all of which will build upon Multimorphic's core platform IP and networking infrastructure.
Cosmic Cart Racing
is the first P
3
game to enable this feature and is released today as an open beta, available for free to all P
3
customers who own the
Cosmic Cart Racing game kit
. Future updates will add head-to-head and/or cooperative gameplay options into other P
3
games, and a forthcoming software development kit update will make many of Multimorphic's network features and infrastructure available to 3rd-party P
3
game developers and other pinball manufacturers.
Pinball has always been a game to be enjoyed socially, and present social distancing precautions need not change that. At the same time, pinball is a physical game where multiple machines might play very differently. So in addition to delivering connected gameplay experiences, Multimorphic is also actively developing ways to make those experiences fair and fun for all players. The P
3
software framework builds upon Multimorphic-patented features that assist in identifying and even integrating machine setup and behavior into gameplay, as well as logic used for detecting and reacting to players trying to gain an unfair advantage over others. Competitions across multiple P
3
machines can be made to be just as fair and skill-based as those on a single machine.
Cosmic Cart Racing customers can download the updated game and module driver packages from their account page on the
Multimorphic site
. Those who haven't installed Heist or a previous Cosmic Cart Racing Beta 2.x release should first update their System Manager and Launcher applications. To play Cosmic Cart Racing over the internet, after installing the game, users can simply choose "Internet Game" after pushing the start button and then either host a new session or join an existing session from the in-game networking lobby.
Those interested in playing network-connected Cosmic Cart Racing this weekend are encouraged to join other players on Saturday, May 23 between 4pm and 5pm CDT. Have the software updates installed, make sure the P
3
is connected to your location's internet-connected Wi-Fi network (configured via the System Manager app), and play against people across the world!