Multimorphic, Inc., the manufacturer of the revolutionary P
3
pinball platform and leader in pinball innovations, introduces Twitch-Connect for the P
3
.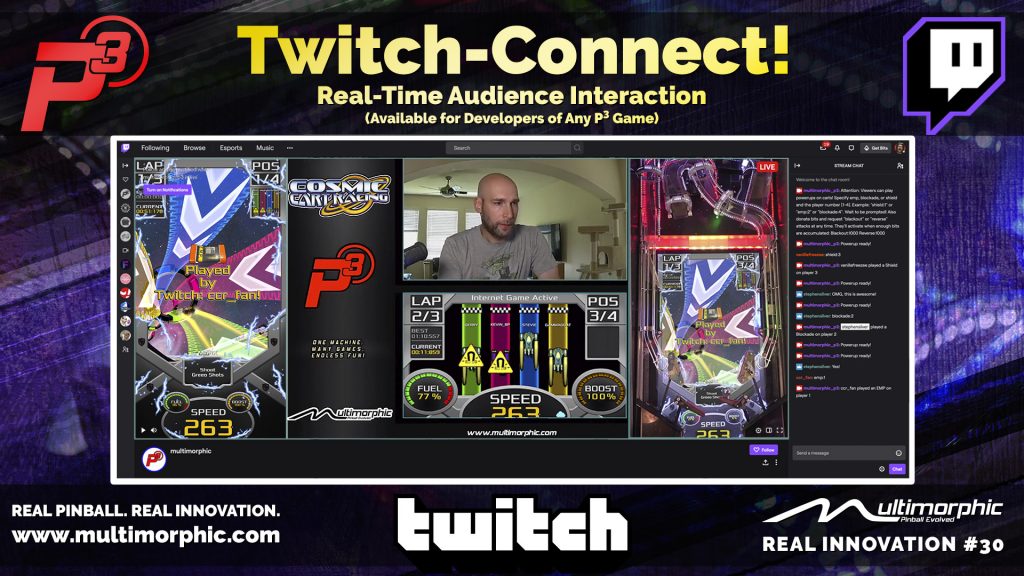 Twitch-Connect provides a set of features that can turn any P
3
game into a fully interactive pinball experience for Twitch streamers and their viewers. Instead of just watching streamers play pinball, Twitch viewers can participate in the action and directly affect in-game features. That's stream viewers affecting gameplay on physical P
3
pinball games (real balls, real flippers, real targets, bumpers, ramps, and toys) in real-time. Interactive features can be enabled for all viewers, only paying viewers, or a combination of both.
Game features controllable by Twitch viewers are unique to each P
3
game and determined by the game developers. Multimorphic's
Cosmic Cart Racing
is the first game to adopt Twitch-Connect features, and it allows viewers to play offensive or defensive power-ups on the racers, thereby helping a streamer or the streamer's opponents. Twitch-Connect features will later roll out for other games in the Multimorphic P
3
game library.
Twitch-Connect is the latest in a long list of features offered in the P
3
to optionally enhance the physical pinball experiences delivered by each of the four currently available playfield modules. Those features include recently announced internet head-to-head gameplay, USB and Bluetooth headset support, a player profile system used for player-specific settings, team-play, and save/restore state, and a number of interactive physical features found only in the P
3
.
Twitch streamers are encouraged to contact
[email protected]
to discuss Twitch-Connect features and to learn how to improve viewer engagement by streaming Twitch-Connect-enabled P
3
games. Multimorphic, Buffalo Pinball, and Gammagoat will be demonstrating Twitch-Connect in a 3-way stream of head-to-head Cosmic Cart Racing on Monday, Sept. 7 at 8PM ET.
For more information about Multimorphic products or to purchase a P
3
for your home or location, contact your Multimorphic distributor or visit
https://www.multimorphic.com.