Multimorphic, Inc., the manufacturer of the revolutionary
P3 pinball platform
and leader in pinball innovations, introduces USB and Bluetooth audio support for the P
3
.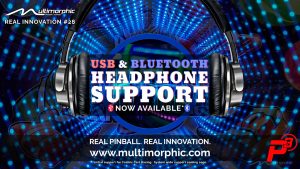 "Audio is a huge part of what makes a pinball game feel immersive," says Gerry Stellenberg, Multimorphic's founder and president. "USB and Bluetooth audio support gives players multiple ways to hear that audio in environments where it would otherwise be too quiet or drowned out, and it will serve as a building block for exciting new features in the future. Obvious future features include integrating bluetooth device pairings with the P
3
player profile system and automatically switching devices in multi-player games. Other features will follow soon thereafter."
USB and Bluetooth audio support is the latest in a string of releases from Multimorphic in 2020. It follows the recent reveals of
Heist
, which is the new flagship P
3
game and 4th P
3
game kit, a new 3-ball ruleset for the
Cosmic Cart Racing playfield
, and internet head-to-head gameplay. The latter two features were released for free, and the
Heist game kit
costs $2750, a fraction of the price of new single-themed pinball machines. Multimorphic's commitment to delivering unrivaled value to its customers is clear.
Upgrading a P
3
to add USB audio support involves installing a free software update. Bluetooth support also requires a Multimorphic-approved Bluetooth adapter and a P
3
game or app that includes Bluetooth pairing options. Cosmic Cart Racing is the first game to include the pairing options and is available to P
3
customers as a beta download now. All other games and apps will be updated soon.
Installation instructions are available to customers on the Multimorphic support site at
https://www.multimorphic.com/support
. For information about the P
3
, P
3
games, and Multimorphic's P-ROC and P
3
-ROC control systems, please visit
https://www.multimorphic.com
.