Multimorphic, Inc., the manufacturer of the revolutionary P
3
pinball platform is proud to announce support for WiFi-based software downloads and updates on the P
3
.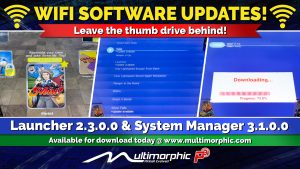 The P
3
platform has long supported network-based gaming features, such as head-to-head racing across the internet for Cosmic Cart Racing players and local battles for Heads Up! players. Networking features are also available to 3rd-Party developers and implemented in games like Ranger In The Ruins. All such features leverage the WiFi adapter installed in every P
3
and deliver new ways for people to enjoy many of the social and competitive aspects of pinball, even when not playing in the same room or on the same machine.
WiFi-based software downloads and updates have now been added to the P
3
's
System Manager
application, and they combine with a number of additional network-based features to simplify operation of the machine. P
3
owners will need to install
System Manager
via USB one last time and ensure their machines are logged into their location's WiFi network. Then their P
3
s will automatically check for and display a list of available updates and new downloads.
This announcement comes less than one month after Multimorphic's release of
Sorcerer's Apprentice
, a new story-based game for the
Cosmic Cart Racing playfield
. For $499, Cosmic Cart Racing owners can add this entirely new and deep ruleset to their P
3
s and enjoy a magic-themed adventure-style game within minutes of their purchase. With the new WiFi-based software downloads, they can also install the game with just a few button presses.
Gerry Stellenberg, Multimorphic's founder and president describes the ever-improving value of the P
3
and Multimorphic's commitment to constant enhancements and additions. "
We continue to add value to every aspect of P3 ownership. The game library has recently grown to 13 titles and 4 unique physical playfield modules, which combine to offer fun and feature-rich playing experiences for everybody, no matter what style of gameplay they prefer. We've also led the industry forward with player-engagement features, such as the P3's profile system, which allows people to set player-specific difficulty levels and challenges, save and restore game state, and play competitive and/or cooperative team games, where groups of players can share their game progress. Other features like Bluetooth and USB headset support give players easier ways to enjoy playing their games, and networked-gameplay options give them even more ways to interact with other players. The addition of WiFi-based software downloads and updates now gives P3 operators an easier way to keep their machines current and make sure everybody has immediate access to the latest games and features, and there many more of both coming soon!
"
For more information about the P
3
Pinball Platform, visit
https://www.multimorphic.com/
.